IQ MOBILE SOFTWARE APPLICATION
RadioMobile's IQ Mobile software application provides Fire and EMS agencies of all sizes with real-time incident dispatching, mapping and navigation, vehicle locations and status updates, and mobile messaging. IQ Mobile software runs on both Windows and iOS making it easy for responders to switch between devices without the need to learn two different systems.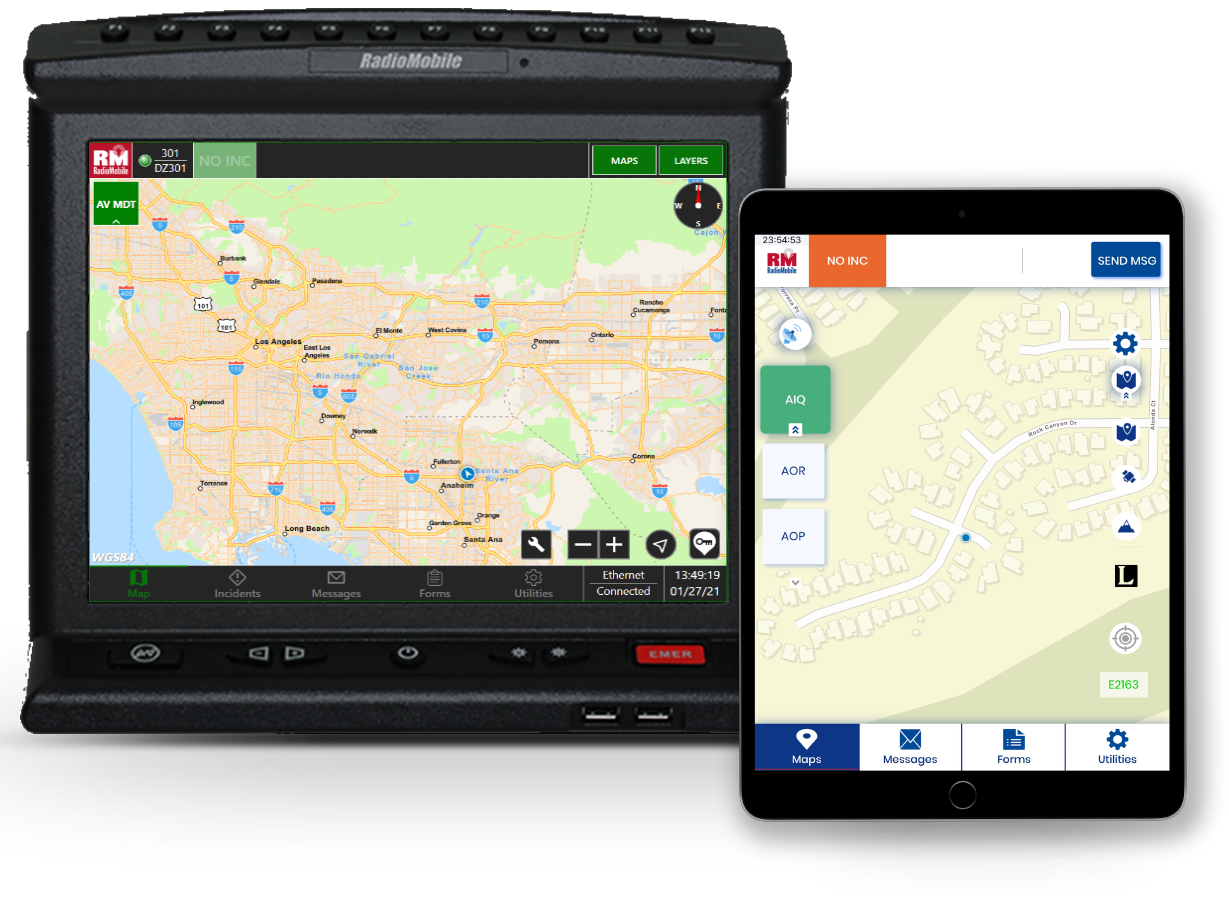 Shorter response times – Reduce response times with instantaneous alerts from the dispatch center, routing and navigation to the incident.
Resource tracking – Keep track of resources and their real-time status regardless of location or connectivity due to automatic switching between multiple networks.
Shared situational awareness – Keep everyone involved in the incident on the same page with access to the same data, everyone's location and instant messaging.
Greater preparedness – Access all of the critical data (maps and custom layers, pre-plans, CAD details) in one place so you can arrive at the incident fully prepared.
Two Great Options to Choose From
IQ Mobile for Mobile Data Computers (Windows)
IQ Mobile Software integrates seamlessly with RadioMobile's ruggedized, in-vehicle mobile data computers (MDC), so supervisors and responders know the exact location and status of emergency apparatus and personnel at all times. The IQ Mobile application can be deployed on 3rd party MDCs. 
VIEW FEATURES
2-way communication with CAD

Text-to-voice navigation

Real-time status updates

Automatic vehicle location

Custom map layers

Pre-plan display

Instantaneous mobile messaging

Security/Encryption

Multi-network connectivity management

Locally stored data
IQ Mobile for iPad tablets (iOS)
RadioMobile's IQ Mobile Tablet software provides​ mobile fleets with real-time mobile messaging and status updates while interfacing​ with applications such as CAD, mapping, AVL, and ​others via an iPad tablet application. IQ Mobile Tablet is configured to meet operational needs and ​is scalable to a variety of agency types and sizes.​
VIEW FEATURES
Available in Apple Business Manager via B2B Appstore

Two-way communication with CAD

Text-to-voice navigation

Real-time incident updates

Automatic Vehicle Location

Selectable mapping layers

Pre-plan display

Instantaneous mobile messaging

Security/Encryption
Learn More About RadioMobile