The Patriot
All-In-One Mobile Data Computer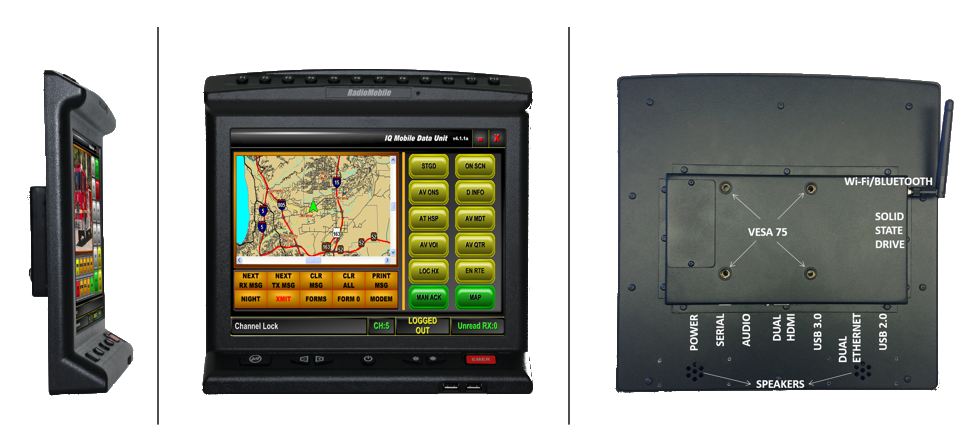 Ideal for the mobile environment, RadioMobile's hardware and software products offer dependable performance and great value.
If what you need is a simple, practical products for your everyday mobile data needs, then RadioMobile is the technology provider for you.
Versatile to be used across multiple industries, from government and public safety, to security services and private fleet management, the Patriot All-In-One Mobile Data Computer is the products of choice. The Patriot all-in-one MDC has a range of convenient and efficient features, some of which are listed below. Contact a RadioMobile representative to get more information.

Ruggedized – Resistant to wear and tear during the toughest of conditions, making it ideal for in-vehicle use

Powerful – Powerful i5 processor with 16GB of RAM and 1 TB solid state drive for operational efficiency

Daylight viewable screen – High bright multi-touch screen display for clarity and accuracy

F keys – 12 programmable, LED backlit function buttons to emulate F key shortcuts on the keyboard

Space Optimization – Built fanless with no moving parts, flush mountable in any vehicle hassle-free with a VESA 75 mounting pattern

Connectivity– Ethernet, Wifi, USB and Bluetooth capabilities

Secondary Screen Support – HDMI output for optional secondary screen
1

 Intel i5 Processor

 Memory – 8GB RAM

 Single Ethernet – RJ-45, Integrated 10/100/1000 LAN

 Serial, USB 3.0 & 2.0 ports

1 TB Solid State Drive

 WiFi – 802.11b,g,n & Bluetooth External

 Fanless, Enclosed, Heat Pipe Technology

 12.1" 1024 x 768 XGA Vehicle Display

0 to 1800 NIT Touch Screen LCD (Adjustable, Less Filters)

 12 Programmable LED Backlit Function Buttons

 2 USB 2.0 Ports in Front – 2 USB 3.0 Ports in Rear

 Integrated Stereo Speakers with Adjustable Volume and External Stereo PA Output

 Aluminum Alloy and Molded ABS Bezel

 11.6"(H) x 11.8"(W) x 2.1"(D) at base, 0.9"(D) in screen area

 Built-in Power Supply with 6.8V~28V Range

 Secondary HDMI display support

 -10°C to +65°C
Learn More About RadioMobile