Save Time and Money With RadioMobile's National Cooperative Contract Through Sourcewell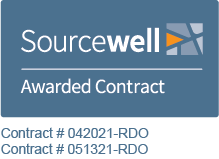 Sourcewell is a national cooperative government partner that focuses on your success by giving you a less complicated way to purchase what you need. By handling the competitive bid process for you, Sourcewell helps you satisfy local bid requirements quickly and effectively. Membership is available to all government entities; public and private K-12 schools, colleges, and universities; and nonprofit organizations. There is no cost, no obligation, and no liability.
Products and Services
Through a highly competitive bid process, RadioMobile has been awarded the following Sourcewell contracts which include discounted pricing:
Contract #042041-RDO
Fire or EMS station alerting or paging systems
Connectivity and interoperability devices, hardware, and communications systems equipment such as:

Land Mobile Radio (LMR) data communications
Satellite communication equipment
Portable and deployable wireless hubs
Mesh data networks
4G/5G LTE Routers
High Power User Equipment (HPUE) for LTE
Ruggedized mobile data computers
Integrated mobile response software
Mobile networking

Installation, training, maintenance, integration, support, and customization services
Contract # #051321-RDO
Fire & EMS in-vehicle software
MDT & tablet apps for iOS & Windows
Dispatch AVL mapping
GPS & GIS in-vehicle tracking
Multi-network: including FirstNet
Cloud hosted solutions
Incident command-AVL software
CAD, AVL, & FSA system integration
Customization & training
Lone worker & personal safety
SOURCEWELL BENEFITS
Sourcewell participating entities receive the best pricing available on the market

Leverages the purchasing power of 60,000 members
Speeds up the procurement process
Select from nationally acclaimed companies under contract
Servicing its members for over 40 years
Membership is FREE and easy with no obligation
RADIOMOBILE BENEFITS
One-stop shop for hardware, software and integration of fire & EMS technology. 
The ability to integrate with legacy and other 3rd party proprietary systems 

Both Commercial-Off-The-Shelf or c

ustomizable so you don't have to modify your SOPs to fit the technology. 
Lower upfront cost and faster deployment via IQ Flex subscription cloud service.