Bridging the Communications Gap: ANZDMC 2021 Presentation
September 9, 2021

-

September 9, 2022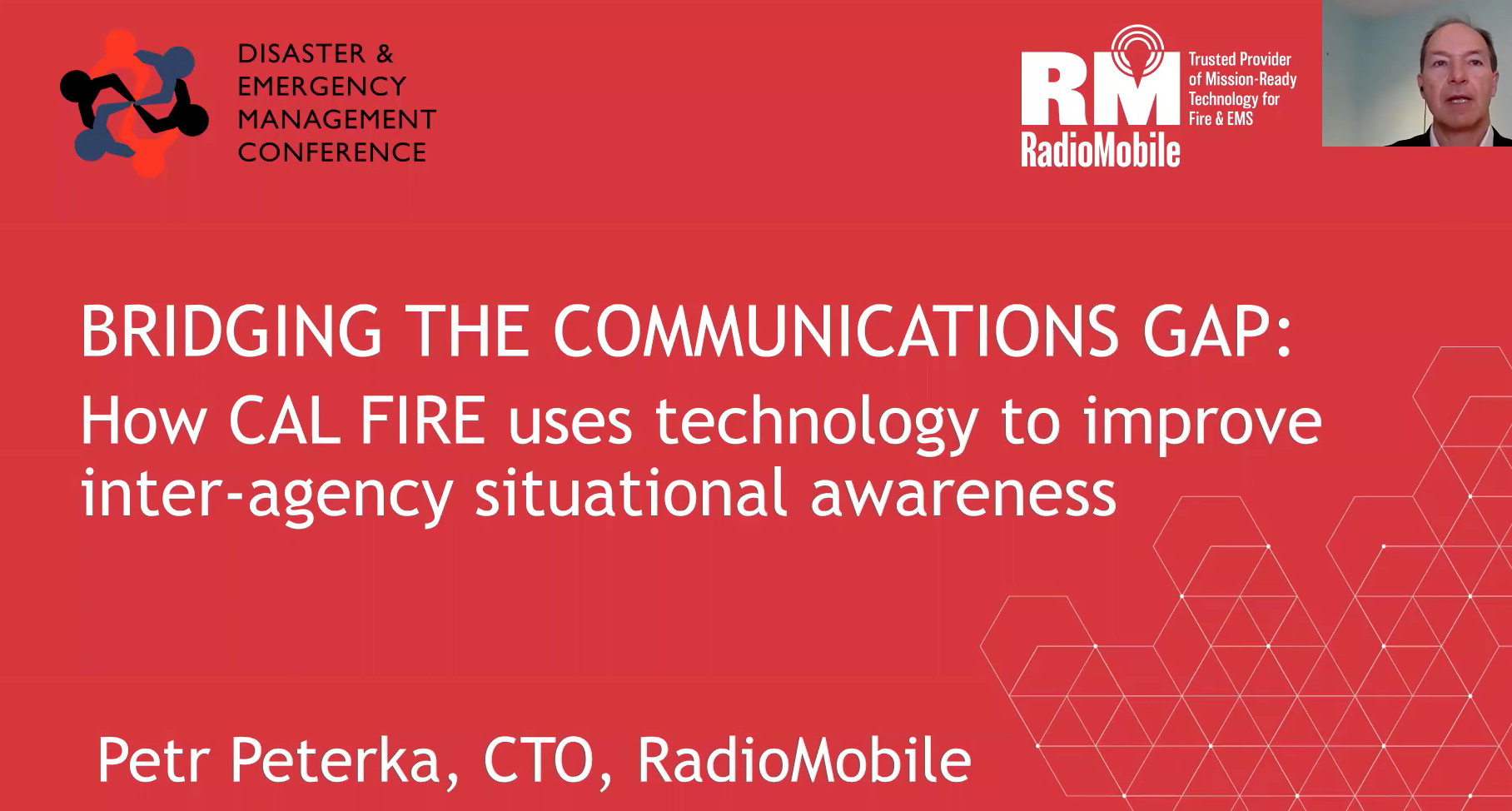 Bridging the Communications Gap: How CAL FIRE uses technology to improve inter-agency situational awareness.
Presented at 2021 Disaster and Emergency Management Conference by Petr Peterka, Chief Technology Officer, RadioMobile.
This presentation answers three key questions:
1) How do I ensure seamless connectivity across multiple networks in both rural and urban areas.
2) How can location accuracy improve the safety and efficiency of my personnel and apparatus?
3) How do I migrate from legacy systems to current technology without disrupting service?
The California Department of Forestry & Fire Protection (CAL FIRE) provides fire protection services for more than 31 million acres of privately-owned wildlands in the nation's most populous state.  Dispatching for CAL FIRE is accomplished through 21 administrative divisions throughout the state, each with its own dispatch system and unique connectivity challenges. Firefighters work out of 812 fire stations and, with different computer aided dispatch (CAD) systems, dispatchers lack a common view of apparatus location and status.  Additionally, while 4G LTE services are widely available, there are areas where crews need to rely on the state's narrowband land mobile radio (LMR)-based data system or satellite services to stay connected.
To overcome those obstacles, CAL FIRE set out to equip its fire apparatus with a common communications platform and mobile computer that could support the wide array of networks and applications, and a single automatic vehicle location (AVL) system that would serve dispatchers and incident managers real-time location and status of fire apparatus and crews.
RadioMobile developed a custom, fully integrated solution which includes Tait's TB8100 high performance base station/repeater to meet CAL FIRE's unique requirements. The system ensures that each fire apparatus has connectivity over any available network – 4G and 5G cellular, narrowband LMR or satellite.  Dispatchers and managers know the exact location and status of all resources which simplifies dispatching the best available unit to a call.  Crew members have the incident detail and up-to-date information at their fingertips and can track their own movements and backtrack (breadcrumb) out of unfamiliar or low visibility areas even if network connectivity is lost.
The collaboration resulted in a highly reliable and resilient system that provides a model for organisations seeking to improve on-scene and situational awareness and accountability across the large urban and rural areas.
VIEW REPLAY