Eagle
12″ and 15″ Mobile Displays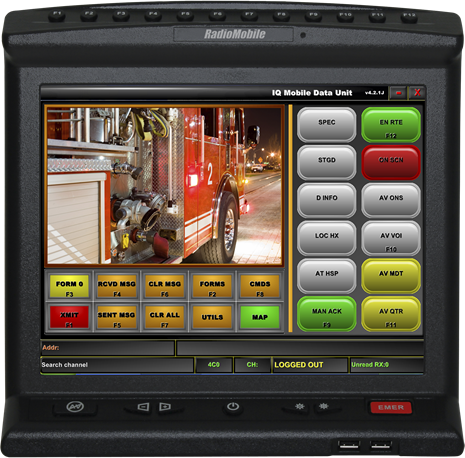 A functional support tool to manage daily and long-term operations, the Eagle uses a universal network interface to display data all in one place for streamlining response in the field. Available in 10" and 15" displays.

Rugged
– The Eagle mobile display is powerful and resistant to wear and tear during the toughest conditions, making it ideal for in-vehicle use.

Space Optimization
– Not only is the Eagle small enough to fit in any vehicle hassle-free, but it also has a built-in power supply so external supply is not needed – making it a lighter load.

High-Quality Display
– With a high brightness display that is daylight viewable, the Eagle provides clarity and accuracy while maintaining low current usage and making the most of its programmable LED backlit function buttons.

High Brightness Mobile Display

12″/15″ 1024 x 768 XGA Vehicle Display

0 to 2000 NIT Touch Screen LCD (Adjustable, Less Filters)

LED Backlighting

12 Programmable Backlit Function Buttons

Lightweight

Backlit AV Kill Switch

Backlit Programmable "Emergency" Button

3 Standard USB 2.0 Ports

Integrated Stereo Speakers with Adjustable Volume and

External Stereo PA Output

Aluminum Alloy and Molded ABS Bezel

11.6″(H) x 11.8″(W) x 2.1″(D) at base, 0.9″(D) in screen area

Low Power Consumption (Max Brightness 1.8A at 13.7V DC)

Built in Power Supply with 6.8V – 28V range

Standard DVI/VGA Connectors

Weight – 5.5 lbs
Learn More About RadioMobile